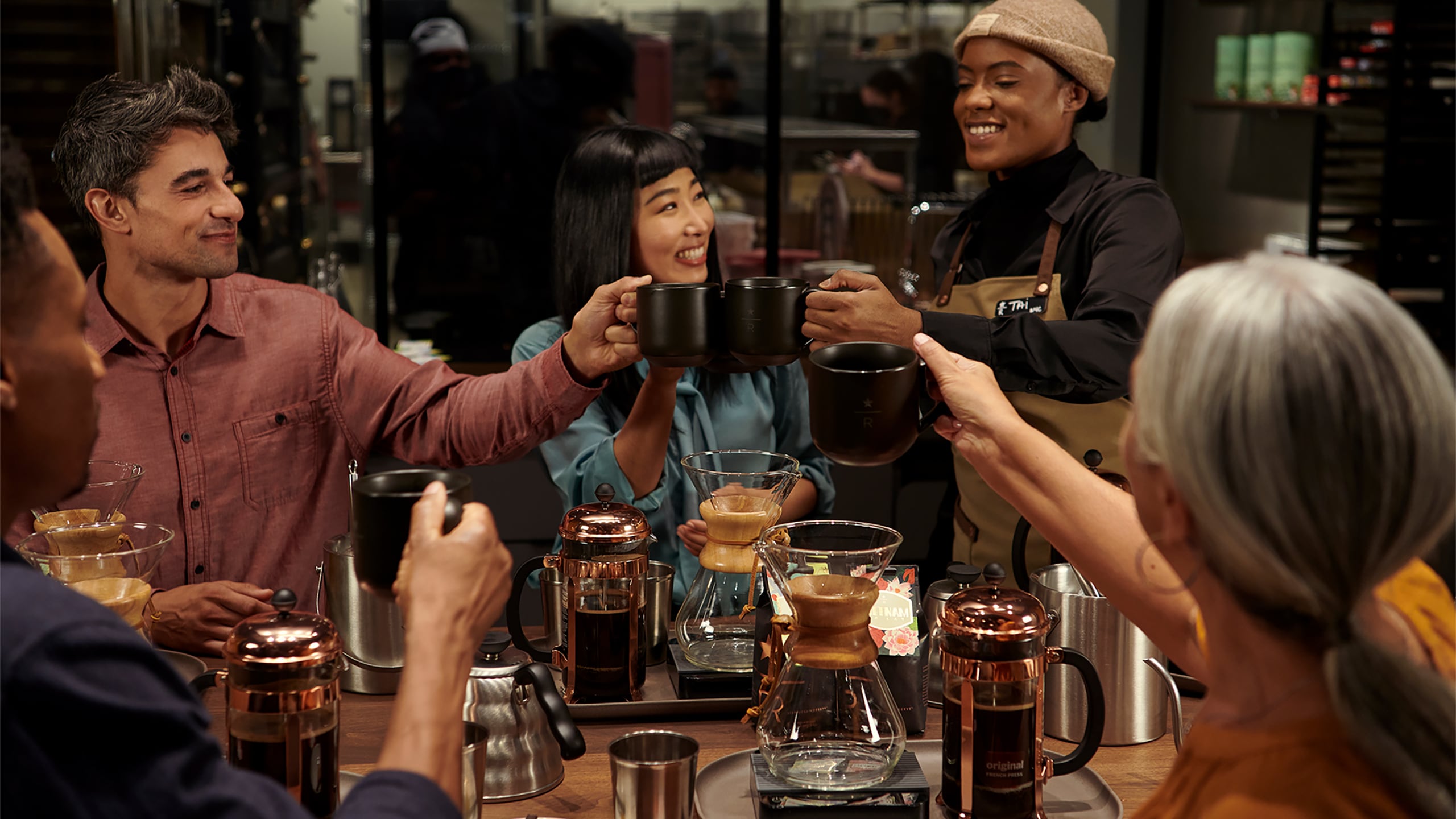 This is your chance to get hands-on. Full of fun and an amazing way to explore your love of coffee, cocktails and spirit-free beverages, you'll step into our private workshop to craft and learn alongside our baristas and mixologists. Tap into their deep knowledge, hear their stories, and get a step-by-step lesson in creating your own perfect drinks from espresso martinis to single-origin coffees on the Chemex® brewer and more. Bring your friends, bring your family, this is going to be an event not to miss. Each class also includes a take-home kit so you can recreate your experience.
Whiskey Barrel-Aged 101
Something magical happens when you bring together coffee, whiskey and time. You'll learn all about the origins of the barrel aging process and how our master roasters carefully coax the beans to perfection. You will also take a barista-guided trip through a special tasting flight of Whiskey Barrel-Aged coffee, Starbucks Reserve Cold Brew and Knob Creek® Whiskey paired with a freshly baked Princi® shortbread cookie. We will send you home with Whiskey Barrel-Aged coffee beans, a Cold Brewer, a Copper Scoop and a Cold Brew recipe card. Everything you need to recreate the tasting at home.
---
Espresso Martini Flight Fundamentals
Pour, shake, stir and sip—discover your inner mixologist and learn to craft our Starbucks Reserve take on the classic and iconic martini. Working right alongside some of the best in the business, you'll make the Empire State Espresso Martini and a full tasting flight of 3 others infused with global liqueurs, all paired with bite-sized Princi® desserts exclusively by Starbucks Reserve. Your take home kit includes Starbucks Reserve® store Empire State Building® Microblend, a Copper Scoop and an Espresso Martini Recipe Card.
---
FUN WITH SPIRIT-FREE SPRITZES
This is one for the whole family and all ages—get creative and have fun building refreshing delicious spritzes that are full of color and flavor. Our mixologists will show you the secrets to crafting a Strawberry Spritz and a Cucumber Mint Spritz, then unleash your new expert knowledge to develop your own original creation. We'll pair it with a Cake Pop and a Chocolate Chip Cookie and send you home with a Starbucks Reserve® Cold Cup and Recipe Cards, everything you need to recreate the spritzes at home.
---
Brewtender for a day
Immerse yourself in the world of coffee and tap into your inner barista with our experts as your guide. Go deep on brew methods and coffee styles, then brew single-origin Starbucks Reserve® coffees yourself iced on a Chemex® brewer and hot on a traditional coffee press. Smell, sip and taste, comparing the nuances and flavors of seasonal single-origin coffees paired with Valrhona® chocolate and fresh-baked shortbread from Princi exclusively by Starbucks Reserve. Take home two bags of single origin coffee, a Starbucks Reserve® Coffee Passport, Copper Scoop and Demitasse Cup.
Innovation Bar
Be among the first to experience the evolution of espresso: Starbucks patented Cold Pressed Espresso. You've had espresso on ice, now join us at the Innovation Bar for The Cold Pressed Espresso Tasting Experience. Prepare to be transported to the next realm of flavors, textures, aromas and coffee love—cold-pressed espresso starts cold and stays cold, preserving and revealing flavors from creamy and indulgent to refreshingly brisk.
On your guided, multi-sensory tasting flight, you'll try five distinct beverages, including an Iced Americano two ways: Cold Pressed and Hot, the Iced Apple Americano, Pistachio Cream Spritz, Malted Milkshake with Black Lemon and your own custom Cold Pressed Espresso.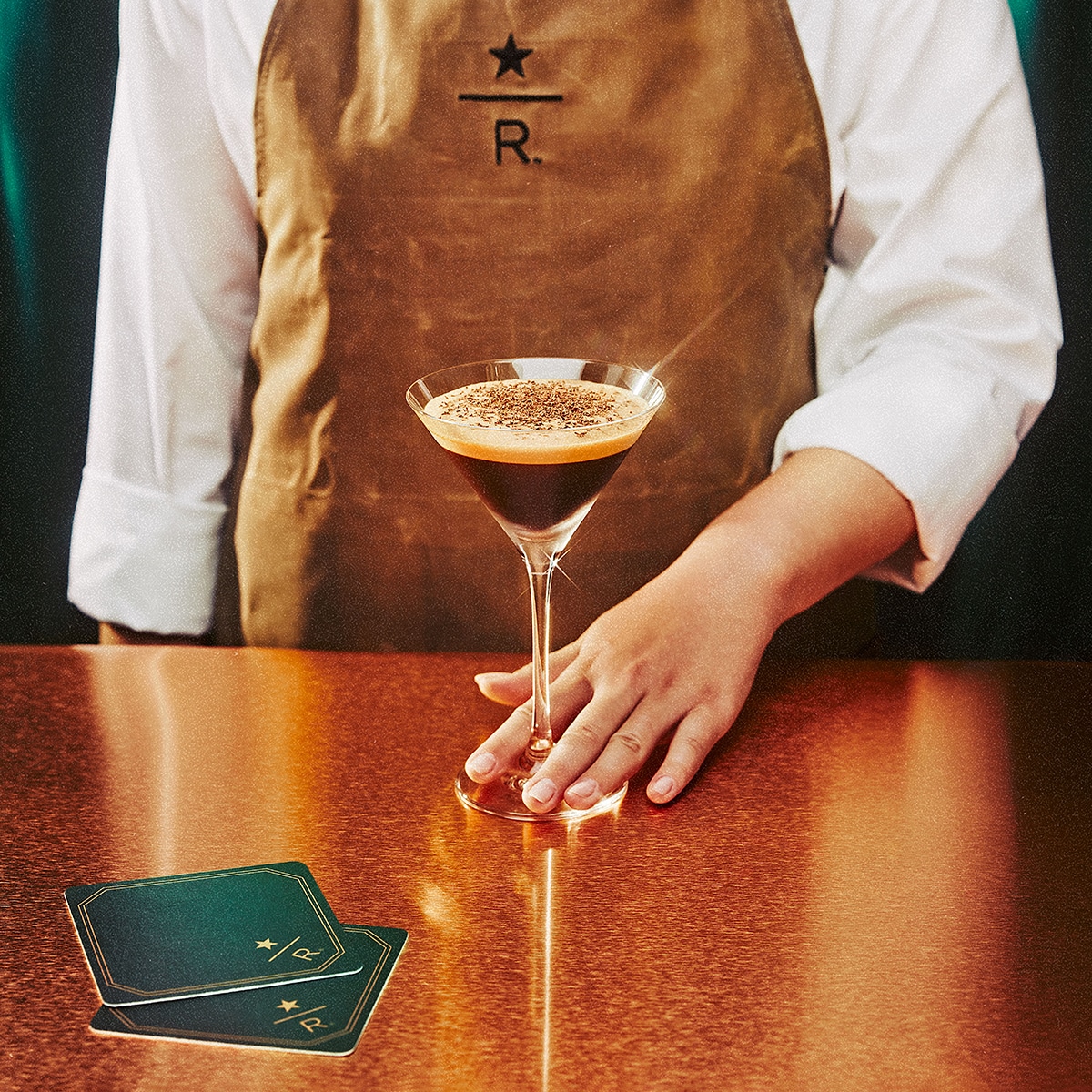 Visit Us
350 5th Ave
New York, NY 10118