Inside HQ: Starbucks Reserve SODO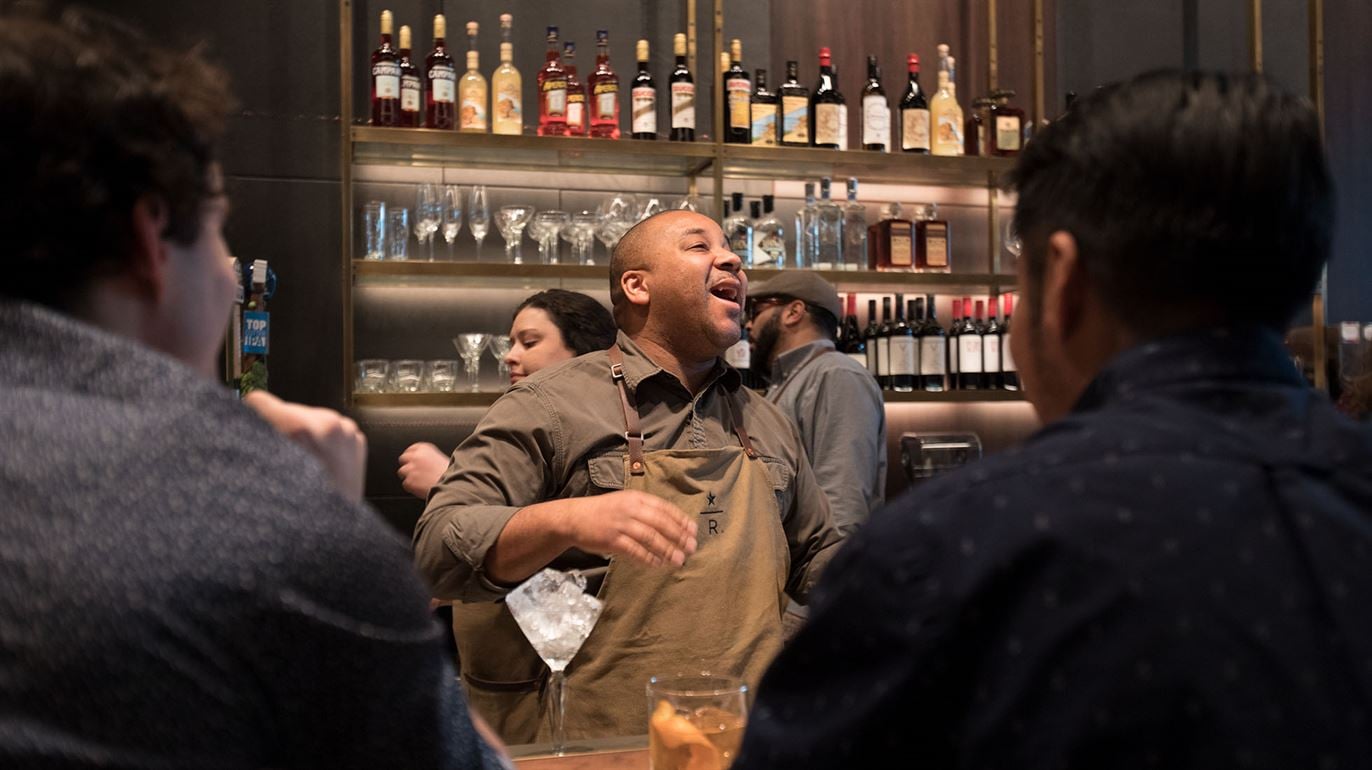 Up a short flight of concrete steps and through a towering set of swinging glass doors, and you see it. The first thing to catch your eye is a soaring wood ceiling—undulating waves of walnut beams sweep across the space, designed to evoke the mountainous landscapes of coffee origins. They draw your gaze down the center of the cavernous room to a wall of intricately forged cast-iron ovens and—by now—throngs of visitors.
We start where all good journeys must: with coffee. Just to your right as you enter is the Craft Bar, lined with rows of gleaming copper fixtures and glass vessels. Ask your barista for a recommendation, and she'll likely suggest a small-lot coffee brewed on a siphon—the height of coffee brewing theater. Pull up a stool and watch the spectacle unfold, as boiling water defies gravity and coaxes tantalizing aromas from freshly ground beans.
Further down the bar, a jewel case of delicate-looking pastries casts an inviting glow. There are lightly glazed rolls sparkling with cinnamon, more studded with candied raisins, and rows of fluffy cornetti and creamy brioches. The cinnamon roll is a particular favorite, a barista enthuses. It's crafted with flour imported from Italy and enfolded with layers of butter. Grab one on your way out—you'll want to save room for what's to come.
Beyond that, a tap with four spouts rises from the bar top. One dispenses Cold Brew coffee, another Nitro Cold Brew and the third Nitro tea. The last spout, and perhaps the most unusual, dispenses Nitro milk. It's a key component of the Draft Nitro Latte—a cold, frothy blend of espresso and nitrogen-infused milk.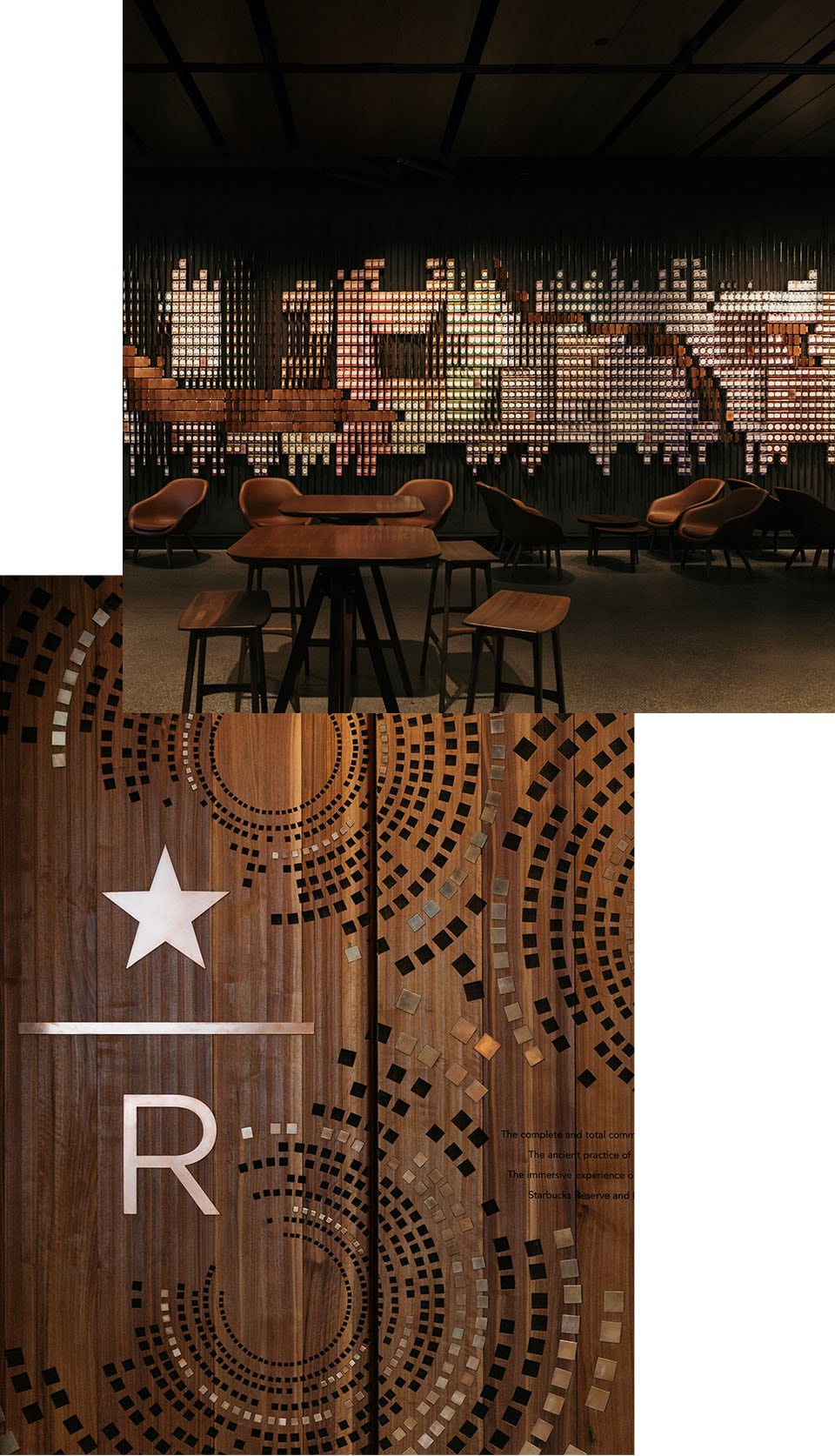 After coffee, it's time for aperitivo. Scope out a seat at the mixology bar, easily spotted by its colorful tiers of Italian and locally sourced liquor. Ruby red bottles of Campari, frosted golden Limoncillo (a favorite of Rocco Princi's) and Italian vermouth take their places beside local favorites like Big Gin. For the sweet tooth, a French 75. For the traditionalist, a classic Manhattan.
By now you're feeling warm, enveloped in a buzz of happy activity, and ready for something smothered in fontina cheese. Look no further than the Princi bakery, directly behind you. Comessas and bakers dressed in crisp white pull steaming trays of pizza and bread out of those ornate ovens you first glimpsed upon entry.
Order a bit of everything. Your commessa is especially enthusiastic about the speck e scamorza pizza, topped with alternating rows of crisped ham and creamy potato medallions.
Carry your mini feast over to the circular fireplace and settle in—the settees and loungers were designed for long conversations over bites and brews. Take in the multifaceted wall of Starbucks Reserve® coffee cards, opposite a textured wall tiled in what looks like leather (hint: it's leather, hand-stretched and stitched by our friends over at Hardmill).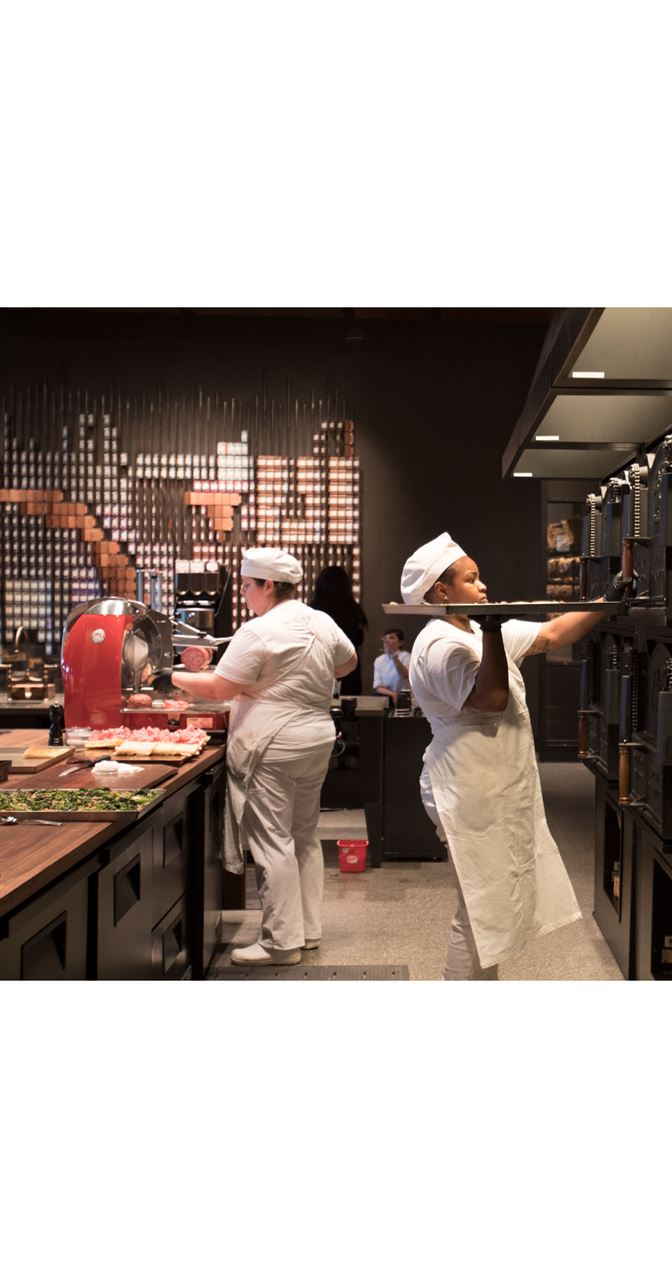 On your next trip, vow to sample that Nitro Latte, and maybe even track down all three secret rooms. The space is ever-changing and deeply layered—there's always more to discover.
From the humble beginnings and rich heritage of our very first Pike Place Market location, we made our way around the globe to thousands of beloved neighborhood stores, culminating in the pinnacle of coffee theater and passion in the form of our first Starbucks Reserve® Roastery. And now we're bringing the journey home to our global headquarters—a space where we're uniquely positioned to welcome the world. This is Starbucks Reserve® SODO.
We'll see you here.
STARBUCKS RESERVE SODO
2401 UTAH AVE
SEATTLE, WA 98134